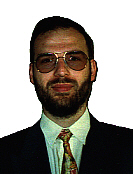 Jean BUET
e_mail : jbuet@iname.com




---
"Ingénieur" ESIEE / Sup'TELECOM Paris , fifteen years experience.

Equivalence between a Masters of Science and a PHD

Consultant Architect / Project Director Sun MicroSystems (France)
---
Training
ESIEE 83 (Telecommunications major)
ENST Sup'Télécom Paris 85 (IS architecture major)

Fluent English (Technical & contract negotiation, project management)
Professional Experience
Oct 82 Conception and realization of a high throughput numeric time slicing multiplexer for
the satellite TELECOM1.
Oct 83 Military Service, Ministry of Justice, Central Prison of Poissy. Set up of two branches
of professional training in information systems for prisoners.
May 84 Independent activity of consultant, study and training for small companies.
Jan 86 Crédit du Nord Bank , responsible for systems and LAN architecture for the Crédit
du Nord Bank, and its branches (8500 PC, 600 LAN). Manager of a team of 15
"ingénieurs". Investment budget of $10 M. Conception and development of network
and telecom servers. Second level technical support. Qualification and buying of all
hardware and software connected to networks.
Jan 91 to Aug 95 : Technical Director of the IS division of the Groupe Azur Insurance Company
Responsibilities
Definition of IS architecture of Groupe Azur and its evolution (France and abroad)
Support to developers as well as Client/Server and classical architecture
Systems and Middleware (mainframe, micro, and network)
Telecommunications, data base and data administration
Bureautique
Security
Budget administration and follow-up ($30 M)
Main projects
Study, set up, audit, security of the first satellite network in Europe. 600 sites connected today, decreased cost by 30%, increased performances.
Client/Server (micro, mainframe) architecture definition of its concepts and components, choice of products, set up and display (1,000+ sites today), included "minitel" server
Mar 91 to Aug 96 : Associate in a Security Consulting Company
Security Audit of banks (20+)
Definition of security policy (bank, insurance company)
Specifications in terms of logical security in the design of a high sensitivity military building
Expertise for insurance company
Security Facility Management for a bank
Secured money transfer
Virus fighting
Mar 96 : Senior Project Manager Sun MicroSystems Southern Europe
Consulting for major customers / projects (Ex : ORT , 3 firsts E10.000 in Europe, Axa 2nd worldwide insurance company, ...)
Project director for high architecture oriented missions
Security consultant (Banks)
Consulting / Project Director for Inet, E-Commerce, Inet security
Assistance to project manager in terms of architecture and mission orientation
Recipient of an annual award (July 97)
Miscellaneous
Expert in computer security (for insurance companies)
Conference at InfoSec/Securicom 95
Conferences on computer viruses
Finalist for the Telecom Manager of the Year Award (95)
Conference at the international week of CAPA on the theme of Client/Server architecture. Event taking place every four years at the Palais des Congrès de Paris
Conferences on communication by satellite
Author of the book " VSAT Principes et Sécurité " (May 1996)
Personal activities and Hobbies
Scuba diving (instructor), Karting
Administration and back-office of a small company
Enjoy traveling : Africa, Sahara, South East Asia, USA, ...
<!IMG SRC="http://fastcounter.linkexchange.com/fastcounter?249990+499987" BORDER=0 >